Book Tickets
TicketQuarter operates the box office for most events in the Capstone Theatre. Click below to book.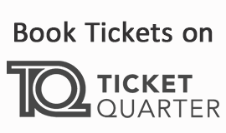 Please note that when tickets are purchased with debit/credit cards a £2.25 transaction fee applied to each transaction. No additional charges are applied for payments made in cash at the box office. To purchase tickets in advance (up to 12 noon on the day of the performance) you can either call TicketQuarter on 0844 8000 410 or buy tickets online by following the link to buy tickets for the event you wish to attend on the events page or underneath the selected event picture on the What's On page.
A box office will be available at the venue on the evening of events, provided there are tickets still available. The evening box office normally opens 30 minutes before the start of an event.
If an event is listed where tickets are available via an alternative box office, details of how to purchase tickets for that event will be available at www.thecapstonetheatre.com
Times of Events
Show times indicated are performance start times. Venue doors open 40 minutes before the performance start time is indicated, and normally a bar will be in operation.
Venue staff reserve the right to restrict entry into the theatre for performances that have started, to avoid disruption.
Join the Capstone Mailing List
Joining the mailing list means we can keep you updated on forthcoming events and offers. It is very easy to join: simply fill in your details here.